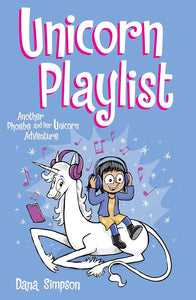 Unicorn Playlist:Another Phoebe and Her Unicorn Adventure (Used Paperback) - Dana Simpson
From newspapers to Nickelodeon,
Phoebe and Her Unicorn
is the most stunning unicorn feature around! This latest collection of
Phoebe
comics will delight middle grade readers and unicorn lovers of all ages.


Best friends Phoebe Howell and Marigold Heavenly Nostrils march to their own beat, but life isn't all rainbows and unicorns. With so many problems in the world and drama at school, Phoebe wonders why unicorns aren't in charge instead of humans. With Marigold, each day is full of magic, from introducing Phoebe to unicorn music to crashing a goblin popularity contest, and even tracking down long-lost family members like Infernus, the Unicorn of Death (who ends up being surprisingly adorable). In
Unicorn Playlist
, Phoebe and Marigold play all the hits.
---