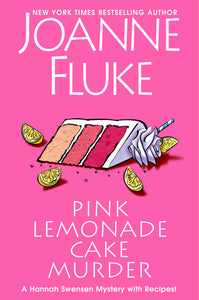 Pink Lemonade Cake Murder (Used Hardcover) - Joanne Fluke
In this irresistible mystery from New York Times and USA Today bestselling author Joanne Fluke, Hannah Swensen is at the center of a lively summer fest with fun for everyone in Lake Eden, Minnesota--including a cold-blooded murderer . . .

The Tri-County Summer Solstice Celebration has come to town, and even among local artisans, athletes, and marching bands, Hannah attracts fans of her own while serving lip-smacking pink lemonade desserts. But the mood sours when a body turns up, leading revelers to wonder if the festivities mark both the longest day of the year and the deadliest . . .

A retired professional MLB player has met a terrifying end--and, considering the rumors swirling about his past, the list of suspects could fill a small stadium. Among them could soon be Delores, Hannah's mother, who publicly held a grudge against the victim after he infamously dunked her in the tank at a previous county fair . . .

Now, with her mother's innocence on the line, a life-changing announcement at The Cookie Jar, and a plethora of desserts to bake, Hannah can't afford to strike out as she begins a dangerous investigation into the ruthless killer who's truly in a league of their own . . .
1031ML
---