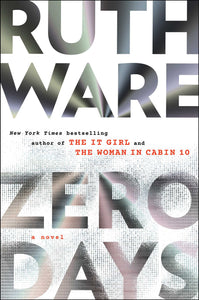 Zero Days (Used Hardcover) - Ruth Ware
An adrenaline-fueled thriller that combines Mr. and Mrs. Smith with The Fugitive about a woman in a race against time to clear her name and find her husband's murderer.

Hired by companies to break into buildings and hack security systems, Jack and her husband, Gabe, are the best penetration specialists in the business. But after a routine assignment goes horribly wrong, Jack arrives home to find her husband dead. To add to her horror, the police are closing in on their suspect—her.

Suddenly on the run and quickly running out of options, Jack must decide who she can trust as she circles closer to the real killer in this unputdownable and heart-pounding mystery.
1024MMK

---