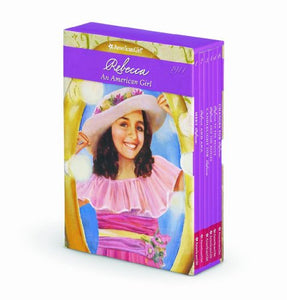 Rebecca an American Girl Boxed Set of 6 (Paperbacks) - Jacqueline Dembar Greene
Presents six stories featuring Rebecca Rubin, a Jewish girl growing up in 1914 New York City.
This keepsake boxed set features all six of Rebecca's beautifully illustrated books, filled with her inspiring stories about growing up in 1914.
 Includes Meet Rebecca, Rebecca and Ana, Candlelight for Rebecca, Rebecca and the Movies, Rebecca to the Rescue, and Changes for Rebecca.
New in box enclosed in plastic
---