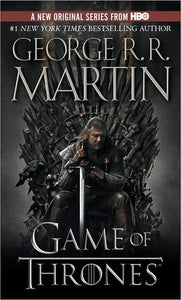 Game of Thrones (Used Mass Market Paperback) - George R. R. Martin
In A Game of Thrones, George R. R. Martin has created a genuine masterpiece, bringing together the best the genre has to offer. Mystery, intrigue, romance, and adventure fill the pages of the first volume in an epic series sure to delight fantasy fans everywhere.
In a land where summers can last decades and winters a lifetime, trouble is brewing. The cold is returning, and in the frozen wastes to the north of Winterfell, sinister and supernatural forces are massing beyond the kingdom's protective Wall. At the center of the conflict lie the Starks of Winterfell, a family as harsh and unyielding as the land they were born to. Sweeping from a land of brutal cold to a distant summertime kingdom of epicurean plenty, here is a tale of lords and ladies, soldiers and sorcerers, assassins and bastards, who come together in a time of grim omens. Amid plots and counterplots, tragedy and betrayal, victory and terror, the fate of the Starks, their allies, and their enemies hangs perilously in the balance, as each endeavors to win that deadliest of conflicts: the game of thrones.
---