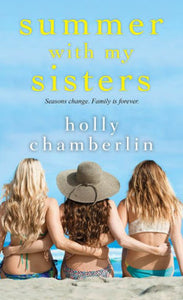 Summer With My Sisters (Used Paperback) - Holly Chamberlin
Bestselling author Holly Chamberlin's heartfelt novel, set in a beautiful Maine beach town, tells of three sisters—and one summer filled with revelations…

When Poppy Higgins left Yorktide, Maine, for Boston, she pictured future visits home as brief diversions from her real life in the big city. Fate had different ideas, and at twenty-five, Poppy has been called back to care for her two younger sisters following their father's death.

Sixteen-year-old Daisy resents Poppy's long absence and chafes under her sometimes fumbling efforts to be a parent. Violet, now thirteen, is a virtual stranger to her oldest sister. Once a happy, united family, the Higginses seem adrift, and Poppy longs to escape her responsibilities. But when Daisy befriends Evie, an enigmatic newcomer to Yorktide, the young woman will be an unlikely catalyst in the sisters' journey back to each other. For as Poppy discovers the deep loss in Evie's life, she awakens to the truth about her own, and about the town, and the people, she's tried to leave behind.
Yorktide, Maine #4
---