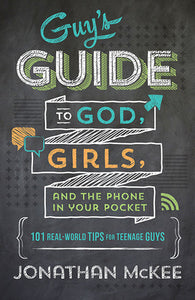 The Guy's Guide to God, Girls, and the Phone in Your Pocket: 101 Real-World Tips for Teenaged Guys (Used Book) - Jonathan McKee
Spiritual, Practical, Real-Life Advice with a
Twist of Humor The Guy's Guide
 will encourage your faith, challenge you spiritually, and give you real-life advice how to live out your faith in today's highly secularized culture, with distractions lurking around every corner. . .and just a click away.
101 real-life tips including. . .
Today's nerd is tomorrow's boss.
If you have to look over your shoulder to check if anyone's in the room, you probably shouldn't be typing it into the search engine.
Learn a skill that would help you survive a zombie apocalypse.
Losing your temper feels really good. . .for about 17 seconds. Keeping your cool feels even better. . .for the rest of the week.
Realize most bad choices usually began five choices ago.
If you have a TV in your bedroom, unplug it right now and move it to another room.
. . .and dozens more helpful hints provide spiritual, practical, and even humorous advice for navigating the challenges of your teen years with confidence and wisdom.
---