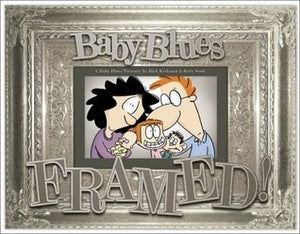 A Baby Blues Treasury: Framed! - Rick Kirkman & Jerry Scott
Kirkman and Scott don't just have their fingers on the pulse of the modern middle-class family; they have a grip on its wrist like a mother pulling a three-year-old past a grocery store cookie aisle.

Tadpoles in the toilet, backseat border wars, emergency homemade diapers . . . welcome to another year in the life of the never-a-dull-moment McPherson family. While sister Zoe and brother Hammie's budding sibling rivalry reaches new heights (and volumes), baby Wren is making great strides of her own. With the advent of "the climbing phase" no coffee table, countertop, or bookshelf is too high.

For years, the team of Rick Kirkman and Jerry Scott have given readers a too-funny-to-be-true, too-real-not-to-be insider's view of the American dream. They get the details and dilemmas so right, in fact, that it's a wonder they haven't been indicted for domestic surveillance.
Condition: Used book in Very Good condition.
Paperback.
0412ET
---