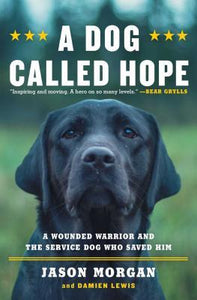 A Dog Called Hope (Used Paperback) - Jason Morgan
"Lone Survivor" meets "Marley & Me" in this inspiring buddy memoir of an extraordinary service dog whose enduring love brought a wounded soldier back to life.
A decade ago, Special Forces warrior Jason Morgan parachuted into the Central American jungle on an anti-narcotics raid. He'd served with the famous Night Stalkers on countless such missions. This one turned out very different. Months later, he regained consciousness in a US military hospital, with no memory of how he'd gotten there. The first words he heard were from his surgeon telling him he would never walk again. The determined soldier responded: "Sir, yes, I will."
After multiple surgeries, unbearable chronic pain, and numerous setbacks, Morgan was finally making progress when his wife left him and their three young sons. He was a single father confined to a wheelchair and tortured by his pain. At this very dark, very low point, Morgan found light: Napal, the black Labrador who would change his life forever.
"A Dog Called Hope" is the incredible story of a remarkable service dog who brought a devastated warrior back from the brink. It is the story of one funny, lovable dog's power to heal a family and teach a wounded man how to be a true father. It is the story of an amazing dog with boundless loyalty who built bridges between his wheelchair-bound battle buddy and the rest of able-bodied humankind. It is the story of how one very special dog gave a man's life true meaning. Humorous, intensely moving, and uplifting, Jason and Napal's heartwarming tale will brighten any day and lift every heart.
906WS
---