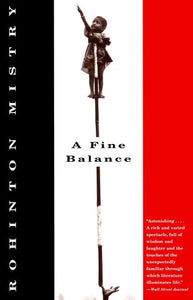 A Fine Balance (Used Book) - Rohinton Mistry
The time is 1975. The place is an unnamed city by the sea. The government has just declared a State of Emergency, in whose upheavals four strangers--a spirited widow, a young student uprooted from his idyllic hill station, and two tailors who have fled the caste violence of their native village--will be thrust together, forced to share one cramped apartment and an uncertain future.

As the characters move from distrust to friendship and from friendship to love, A Fine Balance creates an enduring panorama of the human spirit in an inhuman state. 
Paperback
---