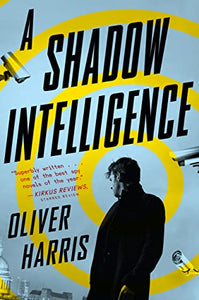 A Shadow Intelligence (Used Paperback) - Oliver Harris
Elliot Kane reflects the dark side of MI6. He is the instrument of an agency that puts two years and more than £100K into training recruits to steal cars, hack bank accounts, strip weapons, and employ everything from blackmail to improvised explosives in service of Crown and Country. After fifteen years overseas embroiled in events that never make the news, Kane is a ghost in his own life, assuming and shedding personalities with each new cover story.

When the woman he loves, another operative named Joanna Lake, vanishes in Kazakhstan, she leaves behind an astonishing video of Kane in a room he's never entered—sending Kane off the rails to find her. While he's well versed in modern psychological warfare, snowbound, landlocked Kazakhstan presents unique challenges. In a country poised between China, Russia, and the West, between dictatorship and democracy, between state intelligence and increasingly powerful private corporations, it's impossible to work out who is manipulating whom. Drawn ever deeper into a realm of deception and conflicting agendas, Kane moves from merely spying to steering the action. But Kane's not the only one trying to figure out where Joanna Lake has gone, or what she learned before disappearing.
0620R
---