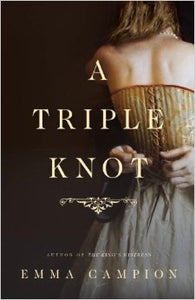 A Triple Knot (Used Paperback) - Emma Campion
The critically acclaimed author of

 

The King's Mistress

 

brings another fascinating woman from history to life in an enthralling story of political intrigue, personal tragedy, and illicit love.

Joan of Kent, renowned beauty and cousin to King Edward III, is destined for a politically strategic marriage. As the king begins a long dynastic struggle to claim the crown of France, plunging England into the Hundred Years' War, he negotiates her betrothal to a potential ally and heir of a powerful lordship.

But Joan, haunted by nightmares of her father's execution at the hands of her treacherous royal kin, fears the king's selection and is not resigned to her fate. She secretly pledges herself to one of the king's own knights, one who has become a trusted friend and protector. Now she must defend her vow as the king—furious at Joan's defiance—prepares to marry her off to another man.

In A Triple Knot, Emma Campion brings Joan, the "Fair Maid of Kent" to glorious life, deftly weaving details of King Edward III's extravagant court into a rich and emotionally resonant tale of intrigue, love, and betrayal.
---