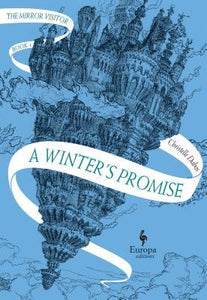 A Winter's Promise (Used Hardcover) - Christelle Dabos & Hildegarde Serle
Where once there was unity, vastly different worlds now exist. Over each, the spirit of an omnipotent and immortal ancestor abides.

Long ago, following a cataclysm called the Rupture, the world was shattered into many floating celestial islands, known now as arks. Ophelia lives on Anima, where inhabitants can read the pasts of objects. What's more, she is also a "mirror-traveler," possessing an ability that has been passed down to her through generations. Her idyllic existence on Anima is disrupted when she is promised in marriage to Thorn, an influential member of a distant clan.
Still only a girl, Ophelia must leave her family and follow her fiancé to Citaceleste, the capital of a cold and icy ark called Pole. But there, her future husband seems indifferent to her and she slowly realizes that her presence on Pole is part of a much bigger plot and has far-reaching ramifications not only for her but for her entire world.
0726LO
---