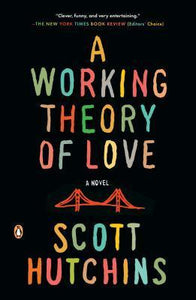 A Working Theory of Love (Used Book) - Scott Hutchins
An extraordinary debut novel that "hits that sweet spot where humor and melancholy comfortably coexist" (Entertainment Weekly)

Before his brief marriage imploded, Neill Bassett took a job feeding data into what could be the world's first sentient computer. Only his attempt to give it language—through the journals his father left behind after committing suicide—has unexpected consequences. Amidst this turmoil, Neill meets Rachel, a naïve young woman escaping a troubled past, and finds himself unexpectedly drawn to her and the possibilities she holds. But as everything he thought about the past becomes uncertain, every move forward feels impossible.
Paperback
---