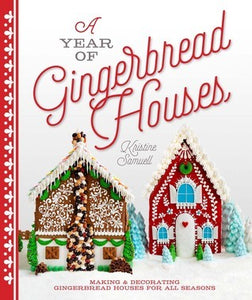 A Year of Gingerbread Houses - Kristine Samuell
Nothing's more enticing for any holiday or special occasion than an awesome, lusciously decorated gingerbread house. With designs for Christmas, Halloween, Valentine's Day, and birthdays, these exquisite projects include a cottage, chalet, and two-story house. Options as customized windows, doors, chimneys, paths, trees, topiaries, and even lighting add to the charm. More than 200 helpful step-by-step process shots; informative sections on tools, techniques, and components; and patterns, piping templates, and tips on baking, assembling, and troubleshooting assure magical results.
Condition: Used book in Very Good condition.

Paperback.
0426ET
---