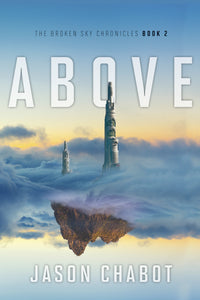 Above (Used Book) - Jason Chabot
The epic adventure continues. . .

Hokk is a criminal outcast who has been scavenging the bodies that fall from the sky to Below for meagre treasures to help him survive. Elia hails from the floating kingdoms in the skies of Above, where the islands' edges are borders no one dares to cross except for the ritual burials that send their dead to Below. Together, these teens embarked on a quest to return to the homes they've lost-but now their journeys have diverged, and their futures are more uncertain than ever. Without Hokk, does Elia have any hope of returning to Above and rescuing her family? Without Elia, will Hokk become just another lost soul roaming the endless plains of Below?
Paperback
0328CR
---