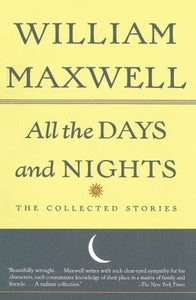 All the Days and Nights: The Collected Stories (Used Paperback) - William Maxwell
From the American Book Award-winning author of Ancestors and Time Will Darken comes a masterful collection of stories, spanning more than 50 years--a tour of a world that engages readers entirely, and whose characters command the deepest loyalty and tenderness.

Spanning more than fifty years and traversing more layers of memory and feeling than are contained in most books of history, the twenty-one stories (eight of which appear in book form for the first time) in All the Days and Nights represent the life's work of one of America's most widely and justly honored writers. Together, they make up what William Maxwell calls "a Natural History of home."

Whether he is writing about a small town in turn-of-the-century Illinois or a precariously balanced enclave of the good life on the Upper East Side of Manhattan, Maxwell has the power to immerse us completely in his fictional worlds and to elicit our allegiance to his characters. The paper boy plying his route (and anxiously contemplating his awakening sexuality) under the all-seeing eye of God; the couple who come home one Christmas Day to find their home ransacked by burglars; the American tourist traveling through a France that has changed irreparably since his last visit --- as told by William Maxwell, their stories become our own, at once fresh and familiar, unsettling and deeply comforting.
0919RM
---