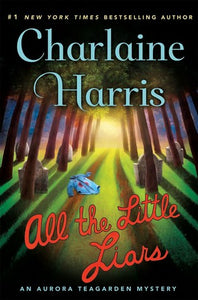 All the Little Liars - Charlaine Harris
Is the truth hiding in plain sight? That is the question at the heart of All the Little Liars, the latest installment of Charlaine Harris's fan-favorite Aurora Teagarden mystery series.

Aurora Teagarden is basking in her new pregnancy when disaster strikes her small Georgia town: four kids have gone missing from school--and her teenage brother, Phillip, is one of them. While the local police comb the county for clues, Aurora and her new husband, bestselling writer Robin Crusoe, begin their own investigation. Is Phillip's disappearance related to Aurora's father's gambling debts? Or is Phillip himself, new to town and an unknown quantity, responsible for taking the other children? As days go by, it's up to Aurora to find the answers to these disturbing questions before it's too late for the missing--and she herself ends up in harm's way. . .
Hardcover
0616SR

---