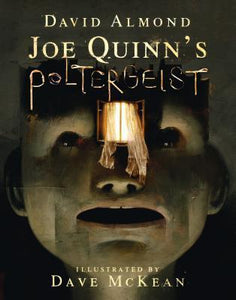 Joe Quinn's Poltergeist (Used Books) - David Almond
There's a poltergeist in Joe Quinn's house, and Davie is determined to discover its source in this lively, hopeful graphic storybook from David Almond and Dave McKean.

Joe Quinn has been telling everyone about the poltergeist in his house, but no one believes him. No one, that is, except Davie. Davie's felt the inexplicable presence in the Quinns' house and seen random objects fly through the air. And there's something else . . . a memory of Davie's beloved sister and a feeling deep down that it might just be possible for ghosts to exist. Full of thoughts of hauntings and grief and God, Davie hovers on a precipice of uncertainty and possibility, a space that storyteller David Almond occupies comfortably and returns to again and again -- here paired once more with the dynamic, dreamlike mixed-media art of Dave McKean.
Hardcover
0327MMK
---