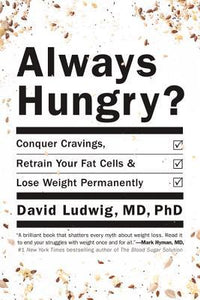 Always Hungry? - David Ludwig, MD, PhD
Always Hungry challenges the age old methods for healthy eating and weight loss. If you have ever been frustrated by failure after failure to count calories, this dietary approach is for you. Dr. Ludwig's approach allows calories to work for you. Dr. Ludwig goes into detail of how he has scientifically discovered the fact that not all calories are equal.

Through a series of three phases the Always Hungry eating plan allows the dieter to conquer the cravings that always sabotage the best diet plans on the market. This is not a one week diet trip that you will jump off at first trouble, rather, this is a three phase life journey that will enhance your life and free you from eating foods (even food thought to be good like low-fat foods) that hold your body hostage.
Hardcover

---