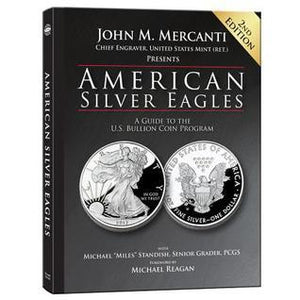 American Silver Eagles (Used Hardcover) - John Mercanti & Michael "Miles" Standish (2nd ed)
2nd edition.
The hugely popular American Silver Eagle coin is collected by numismatists, stockpiled by investors, and treasured by silver buyers throughout the United States and around the world. Now, no less an expert than John M. Mercanti - the designer of the coin's reverse - shares his unique insight and perspective on the beautiful pieces of Americana. To create this book, Mercanti has drawn on nearly 40 years of experience working in the U.S. Mint, starting in 1974 as a sculptor-engraver and culminating with his 2006 appointment as the Mint's 12th chief engraver (supervisor of design and master tooling development specialist.) Mercanti and coauthor Miles Standish bring together diverse elements - technical and artistic, historical and current, market-driven and hobbyist - to make American Silver Eagles a valuable addition to any collector's or investor's bookshelf.
This 2nd edition is expanded to include new information on the U.S. mint's individual coins and sets of 2012 and 2013. Additional research and more photographs expanded the coverage of earlier issues, as well. More historical photographs have been added to chapters 1 and 2. Certified coin populations are updated, as are the valuations seen in today's sometimes volatile marketplace. And additional images and information bring the book up to date in chapter 4 (covering the Mint's other silver, gold, and platinum issues, plus news on the Treasury's report on palladium coins).
Condition: Used book in Very Good condition.
---