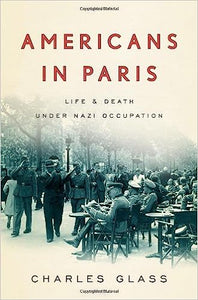 Americans in Paris (Used Hardcover) - Charles Glass
In Americans in Paris, tales of adventure, intrigue, passion, deceit, and survival unfold season by season, from the spring of 1940 to liberation in the summer of 1944, as renowned journalist Charles Glass tells the story of a remarkable cast of expatriates and their struggles in Nazi Paris. Before the Second World War began, approximately thirty thousand Americans lived in Paris, and when war broke out in 1939 almost five thousand remained. As citizens of a neutral nation, the Americans in Paris believed they had little to fear. They were wrong. Glass's discovery of letters, diaries, war documents, and police files reveals as never before how Americans were trapped in a web of intrigue, collaboration, and courage.

Artists, writers, scientists, playboys, musicians, cultural mandarins, and ordinary businessmen-all were swept up in extraordinary circumstances and tested as few Americans before or since. Charles Bedaux, a French-born, naturalized American millionaire, determined his alliances as a businessman first, a decision that would ultimately make him an enemy to all. Countess Clara Longworth de Chambrun was torn by family ties to President Roosevelt and the Vichy government, but her fiercest loyalty was to her beloved American Library of Paris. Sylvia Beach attempted to run her famous English-language bookshop, Shakespeare & Company, while helping her Jewish friends and her colleagues in the Resistance. Dr. Sumner Jackson, wartime chief surgeon of the American Hospital in Paris, risked his life aiding Allied soldiers to escape to Britain and resisting the occupier from the first day. These stories and others come together to create a unique portrait of an eccentric, original, diverse American community.

Charles Glass has written an exciting, fast-paced, and elegant account of the moral contradictions faced by Americans in Paris during France's dangerous occupation years. For four hard years, from the summer of 1940 until U.S. troops liberated Paris in August 1944, Americans were intimately caught up in the city's fate. Americans in Paris is an unforgettable tale of treachery by some, cowardice by others, and unparalleled bravery by a few.
0626RT
---