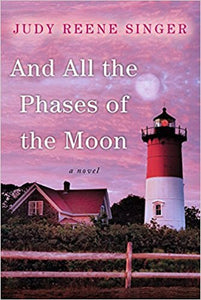 And All the Phases of the Moon (Used Book) - Judy Reene Singer
Delving into the mysteries of the human heart with humor and emotion, master storyteller Judy Reene Singer explores what it means to begin again after a life touched by tragedy . . .

Aila Cordeiro absolutely cannot take on an abandoned pit bull. So why is she suddenly filling food bowls for the wounded stray and opening her seaside home to him? Maybe it's the sadness in the pup's eyes, a sorrow that mirrors her own. But caring for another is not on Aila's agenda anymore. As the sole owner of the general store in a Cape Cod tourist town, she has enough on her hands. Besides Aila can't love anyone ever again. Not since her husband--her heart--boarded a boat with her beloved father two years ago, never to return . . .

Of course, life is what happens while you're making other plans. Now instead of solitude and grief, Aila is suddenly at the center of controversy in the small town. And the only person on her side, besides her best friend, is a stranger whose heart might be more battered than her own. Ex-Navy seal Sam Ahmadi has seen his share of misfortune, which is why Aila never expects him to be the one to show her how to live again in the face of shattering loss. How to hope for the happiness you once dreamed of . . .

Hardcover
0307ML
---