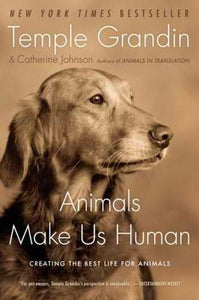 Animals Make Us Human (Used Book) - Temple Grandin
From beloved animal expert Temple Grandin, a fascinating exploration on how animals feel—essential reading for anyone who's ever owned, cared for, or simply cared about an animal.

While it's usually easy to pinpoint the cause of physical pain in animals, to know what's causing them emotional distress is much harder. Drawing on the latest research and her own work, Grandin identifies the core emotional needs of animals. Then she explains how to fulfill them for dogs and cats, horses, farm animals, and zoo animals. Whether it's how to make the healthiest environment for the dog you must leave alone most of the day, how to keep pigs from being bored, or how to know if the lion pacing in the zoo is miserable or just exercising, Grandin teaches us to challenge our assumptions about animal contentment and honor our bond with our fellow creatures.
Paperback
---