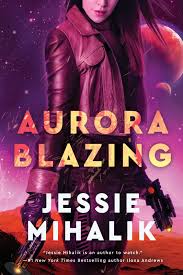 Aurora Blazing - Jessie Mihalik
Bianca von Hasenberg did her duty for High House von Hasenberg and ended up trapped in a terrible marriage. When her husband dies unexpectedly and leaves her a happy widow, she vows never to marry again. Instead, she uses her connections to save other young women. Information is power and Bianca has a network that would be the envy of the 'verse—if anyone knew about it.

After an attack, Bianca's oldest brother, the House von Hasenberg heir, disappears from Earth without a trace. Determined to find him, Bianca leaves against orders. When she refuses to return, her father sends Ian Bishop, the director of House von Hasenberg security, to haul her home like a recalcitrant child.

Bianca leads Ian on a merry chase across the universe, but when their paths finally collide, she persuades him that they would be far more successful at finding her brother if they worked together. She will do anything to save her sibling, even if it means spending time alone on a small ship with the handsome, infuriating man who once broke her heart.

As clues lead them deep into rival House Rockhurst territory, Bianca must decide if she can trust Ian with the one piece of information that could destroy her completely. . . 
Consortium Rebellion, #2
Paperback
---