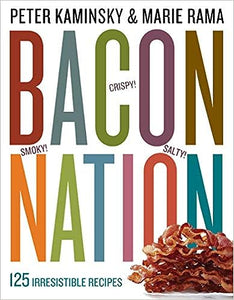 Bacon Nation (Used Paperback) - Peter Kaminsky & Marie Rama
Everything tastes better with bacon. One of those flavor-packed, umami-rich, secret-weapon ingredients, it has the power to elevate just about any dish, from soups to souffle´s, braises to bread pudding.

Peter Kaminsky and Marie Rama know just how to employ it. Peter is the author of both Pig Perfect―a paean to the noble swine―and, most recently, Culinary Intelligence, which argues that the healthiest way to eat is to eat less but really well. He and Marie know that adding irresistible bacon transforms an ordinary dish into an extraordinary one.

Bacon Nation is a bacon-lover's dream, a collection of 125 smoky, savory, crispy, meaty, salty, and sweetly sensuous recipes that go right through the menu. Starters like Spiced Nuts with Bacon; Bacon and Butternut Squash Galette; Bacon, Pear, and Humboldt Fog Salad. Main courses featuring meats―Brawny Bacon Beef Bourguignon, Saltimbacon; poultry―Paella with Chicken and Bacon; fish―Flaky Cod Fillets with Bacon and Wine-Braised Fennel; and pasta, including an update of the classic Roman dish Bucatini all'Amatriciana. Even dessert: Rum Ice Cream with Candied Bacon Chips and Chocolate-Peanut-Bacon Toffee. Or, as Homer Simpson would say, Mmmm, bacon.
0724RT
---