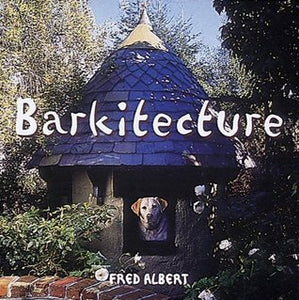 Barkitecture (used book) - Fred Albert
From miniature chateaus to modernist boxes, from anthropomorphic abodes to classical temples, this book showcases nearly fifty one-of-a-kind doggy domiciles from across America.
In 
Barkitecture,
 architecture and design writer Fred Albert has collected some of the most wonderful and fantastic doghouses ever created. Examples include doghouses with clock towers and thatch roofs, doghouses shaped like TV sets, and even some that look like dogs.
The book begins with an introduction that includes an entertaining history of the doghouse, accompanied by photos and drawings of noteworthy historical examples. Four Chapters follow: "Putting on the Dog" highlights stylish period reproductions; "Modern Barkitecture" includes cutting-edge "Bowhouse" designs; "A Breed Apart" features houses inspired by everyday objects; and the final chapter, "Puppourri," showcases wacky, one-of-a-kind structures that defy categorization.
Each house is illustrated by one or two color images and is accompanied by a witty, tounge-in-jowl text that describes the structures design and building materials, the creators inspirations, and their dogs reactions.
---