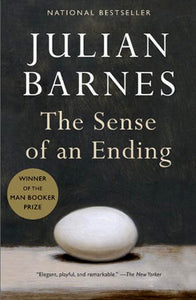 The Sense of an Ending (Used Book) - Julian Barnes
A novel so compelling that it begs to be read in a single setting, The Sense of an Ending has the psychological and emotional depth and sophistication of Henry James at his best, and is a stunning new chapter in Julian Barnes's oeuvre.
 
This intense novel follows Tony Webster, a middle-aged man, as he contends with a past he never thought much about—until his closest childhood friends return with a vengeance: one of them from the grave, another maddeningly present. Tony thought he left this all behind as he built a life for himself, and his career has provided him with a secure retirement and an amicable relationship with his ex-wife and daughter, who now has a family of her own. But when he is presented with a mysterious legacy, he is forced to revise his estimation of his own nature and place in the world. 
Paperback
---