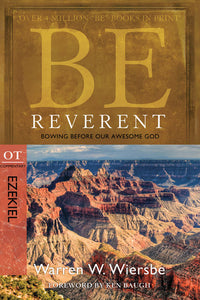 Be Reverent: Ezekiel (Used Book) - Warren Wiersbe
The modern church has become a comfortable place, as congregations focus on creating warm and welcoming environments. But have casual attitudes replaced reverence for the Lord? The prophet Ezekiel was called to remind God's people about His holy and glorious nature, and that message remains as relevant today as when it was first delivered. This study examines Ezekiel's mission to describe the indescribable, a God beyond imagining, a King worthy of our reverence.

Part of Dr. Warren W. Wiersbe's best-selling "BE" commentary series, BE Reverent has now been updated with study questions and a new introduction by Ken Baugh. A respected pastor and Bible teacher, Dr. Wiersbe calls us to rediscover the awesomeness of the Lord. Filled with inspiring words and images, Ezekiel's timeless message will draw you into a deeper level of holy reverence for our God.
Paperback
---