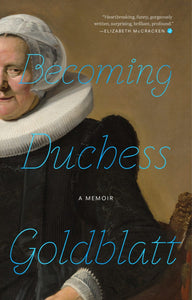 Becoming Duchess Goldblatt: A Memoir (Used Book) - Anonymous
Part memoir and part joyful romp through the fields of imagination, the story behind a beloved pseudonymous Twitter account reveals how a writer deep in grief rebuilt a life worth living.

Becoming Duchess Goldblatt is two stories: that of the reclusive real-life writer who created a fictional character out of loneliness and thin air, and that of the magical Duchess Goldblatt herself, a bright light in the darkness of social media. Fans around the world are drawn to Her Grace's voice, her wit, her life-affirming love for all humanity, and the fun and friendship of the community that's sprung up around her.
Hardcover
0915LH
---