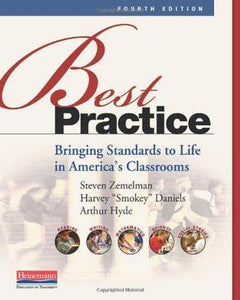 Best Practice, Fourth Edition: Bringing Standards to Life in America's Classrooms (Used Book) - Steven Zemelman
"The single most powerful variable in student achievement is the quality of teaching. But what does quality mean? What does it look like in real classrooms? It looks like the teaching in this book."
-Steven Zemelman, Harvey "Smokey" Daniels, and Arthur Hyde Best Practice is back, and with it Steve Zemelman, Smokey Daniels, and Arthur Hyde invite you to greet today's most important educational challenges with proven, state-of-the-art teaching. Linguistic diversity, technology, Common Core, high-stakes testing-no matter the hurdle, Best Practice teaching supports powerful learning across our profession. Best Practice , Fourth Edition, is the ultimate guide to teaching excellence. Its framework of seven Best Practice Structures and cutting-edge implementation strategies are proven across the grades and subject areas. BP4 creates common ground for teachers, leaders, and principals by recommending practices drawn from the latest scientific research, professional consensus, and the innovative classrooms of exemplary teachers. BP4 puts top-quality teaching at the fingertips of individual practitioners by sharing real-life instructional scenes that define classroom excellence, increase learning, and improve students' life opportunities. It's also more valuable than ever to PLCs and school reform initiatives thanks This new educational era demands highly-effective, high-quality instruction that makes a difference for students. Fortunately with Zemelman, Daniels, and Hyde's help every educator can be a world-class, life-changing teacher-a Best Practice teacher.
Paperback

---