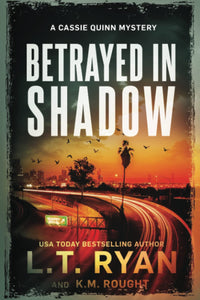 Betrayed in Shadow (Used Paperback) - L. T. Ryan
Los Angeles might be the City of Angels, but Cassie knows better than most how many demons hide in the shadows. With Chicago in their rearview mirror, she and Detective Harris are more determined than ever to uncover the truth about David. And it's finally within reach.

Finding one man in a sea of millions is no easy feat, and Cassie must rely on her abilities more than ever before. Bodies long buried will surface, and her newfound knowledge might change everything she thought she knew about her life back home.

Under the relentless California sun, allies new and old will join Cassie in discovering how far the tendrils of corruption can reach. And when she finally makes it back to Savannah, she finds herself facing off with an adversary that's gone unchecked for far too long.
0801SR
---