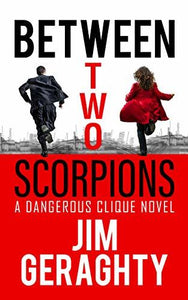 Between Two Scorpions (Used Book) - Jim Geraghty
A long dormant CIA asset emerges from hiding to request a meeting with his former handler, the beautiful, enigmatic intelligence operative Katrina Leonidivna. She's skeptical that the source, a shady arms dealer, is on the level. But when Katrina barely escapes with her life after an explosion rips through the café where they met, she's forced to take his tip seriously. Alongside her husband, Alec Flanagan, and a rogue crew of covert agents from every corner of the intelligence community, Katrina races around the globe to uncover the truth.

What this dangerous clique of operatives discover is a plot that could rip America apart from the inside. A plot that pits neighbors against one another and turns everyone into a potential threat. A plot that could make anyone take up arms against their own country. A plot that Katrina, Alec, and the rest of their crew have to stop before it's too late. But when everyone is a suspect, no one is safe and the entire nation is under suspicion. Hot on the trail of a terror cell capable of turning anyone—and everyone—into a deranged killer, only this dangerous clique of spies has a chance to stop the terrorists from weaponizing America's greatest asset—freedom.

Between Two Scorpions is a thrilling race against time that introduces an unforgettable cast of characters in the first volume of the Dangerous Clique Series.
Paperback
0228ML
---