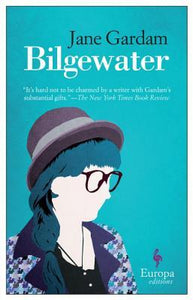 Bilgewqter (Used Book) - Jane Gardam
Originally published in 1977, Jane Gardam's Bilgewater is an affectionate and complex rendering-in-miniature of the discomforts of growing up and first love seen through the eyes of inimitable Marigold Green, an awkward, eccentric, highly intelligent girl. The Evening Standard described Bilgewater as "one of the funniest, most entertaining, most unusual stories about young love."

Motherless and 16, Marigold is the headmaster's daughter at a private backwater all-boys school. To make matters worse, Marigold pines for head boy Jack Rose, reckons with the beautiful and domineering Grace, and yanks herself headlong out of her interior world and into the seething cauldron of adolescence. With everything happening all at once, Marigold faces the greatest of teenage crucibles. 

A smart and painterly romp in the rich tradition of The Hollow Land and A Long Way From Verona, Gardam's elegant, evocative prose, possessed of sharp irony and easy surrealism makes Bilgewater a book for readers of all ages.
Paperback
0816ML
---