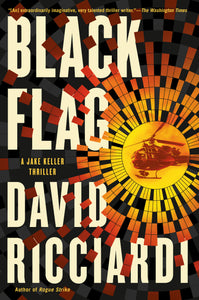 Black Flag (Used Hardcover) - David Ricciardi
CIA officer Jake Keller faces stakes that are very high and very personal in the latest electrifying thriller from the author of Rogue Strike.

After years of relative calm, piracy has returned to the high sea.

But the days of AK-47s and outboard engines are over. The new pirates hit like a SEAL team. Highly trained, and using cutting edge technology, they make sure their victims are never heard from again.

Ships and crews are vanishing at a staggering rate.

As the threat to international shipping grows, U.S. authorities become determined to find the source of this new danger.

Jake Keller has a plan—to lure the pirate mastermind out of hiding by infiltrating his organization—but it's a dangerous gambit, made more so by Jake's personal involvement with the beautiful heiress to a Greek shipping fortune and an ulterior agenda coming out of CIA headquarters.

As the threats close in from all sides, Jake finds himself faced with a familiar choice: back off, or go on the offensive.

His fate, and the fate of a nation, hang on his decision.
0620SR
---