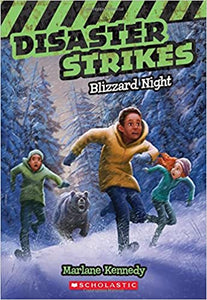 Disaster Strikes: Blizzard Night (Used Paperback) - Marlane Kennedy
When disaster strikes, the only thing you can count on is yourself!
A winter trip in the remote Michigan wilderness seemed like the perfect way for Jayden to get to know his new foster family. Though he doesn't have much in common with siblings Maggie and Connor, he's hoping they'll get to like each other over snow mobile races and steaming mugs of cocoa. But when the snow really starts to come down, the family van crashes and the three kids must go out into the bleak, white storm to search for help. Soon the wind is howling and night is starting to fall. Jayden, Maggie, and Connor will have to think fast, find shelter, watch out for bears, and somehow stay warm if they don't want to end up frozen in their tracks....
Disaster Strikes #3
0712CM
---