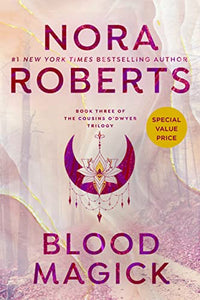 Blood Magick (Used Paperback) - Nora Roberts
County Mayo is rich in the traditions of Ireland, legends that Branna O'Dwyer fully embraces in her life and in her work as the proprietor of The Dark Witch shop, which carries soaps, lotions, and candles for tourists, made with Branna's special touch.

Branna's strength and selflessness hold together a close circle of friends and family—along with their horses and hawks and her beloved hound. But there's a single missing link in the chain of her love…

She had it once—for a moment—with Finbar Burke, but a shared future is forbidden by history and blood. Which is why Fin has spent his life traveling the world to fill the abyss left in him by Branna, focusing on work rather than passion.

Branna and Fin's relationship offers them both comfort and torment. And though they succumb to the heat between them, there can be no promises for tomorrow. A storm of shadows threatens everything that their circle holds dear. It will be Fin's power, loyalty, and heart that will make all the difference in an age-old battle between the bonds that hold their friends together and the evil that has haunted their families for centuries.
The Cousins O'Dwyer #3
0726LO
---