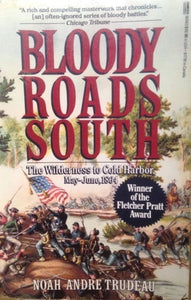 Bloody Roads South: The Wilderness to Cold Harbor, May-June 1864 (Used Book) - Noah Andre Trudeau
In this authoritative chronicle of the great 1864 Overland Campaign in Virginia, Noah Andre Trudeau vividly re-creates the brutal forty days that marked the beginning of the end of the Civil War. In riveting detail, Trudeau traces the carnage from the initial battles in Virginia's Wilderness to the gruesome hand-to-hand combat at Spotsylvania's "Bloody Angle," to the ingenious trap laid by Lee at the North Anna River, to the killing ground of Cold Harbor.
Through fascinating eyewitness accounts, he relates the human stories behind this epic saga. Common soldiers struggle to find the words to describe the agony of their comrades, incredible tales of individual valor, and their own mortality. Also recounting their experiences are the women who nursed these soldiers and black troops who were getting their first taste of battle. The raw vitality of battle sketches by Edwin Forbes and Alfred R. Waud complement the words of the participants.
Paperback
0301xBC
---