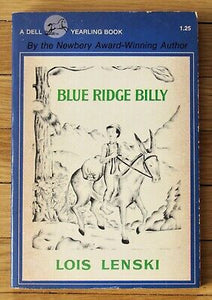 Blue Ridge Billy (Used Paperback) - Lois Lenski
Third Printing, 1974
A young boy dreams of music and sunshine in the Great Smoky Mountains

As far as Billy is concerned, there's no sight more beautiful than the sun setting over the Blue Ridge Mountains. When the day is done, he sneaks away from his work to watch the sun go down. If his father knew, he would call Billy lazy, but Mama would understand. She knows life in the mountains is hard and that there's no point in living if a person can't take time to appreciate what he has. Billy dreams of the day when he can pick up his fiddle and sing the folk songs of his people. Until then, he will be content with the sun.

This beautifully written novel tells a story of simple fun and irresistible pleasures in 1 of the most beautiful regions in the United States.
---