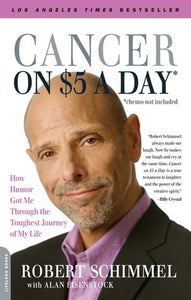 Cancer on Five Dollars a Day (chemo not included): How Humor Got Me Through the Toughest Journey of My Life (Used Book) - Robert Schimmel
In the spring of 2000, stand-up comedian Robert Schimmel was diagnosed with stage III non-Hodgkin's lymphoma, and soon the fire of his white-hot career started to fizzle.But Schimmel never lost his sense of humor, his searing honesty, and most of all, his passion to make people laugh. Indeed, it was his basic need to entertain—even if the only people around him were suffering from cancer and the room he was playing was the Mayo Clinic infusion center—that carried him through his ordeal.

Alternately laugh-out-loud funny and deeply moving, Cancer on 5 a Day is a stirring account of how one man's face-off with a deadly disease helped him better understand himself, and ultimately changed his life.
Paperback
---