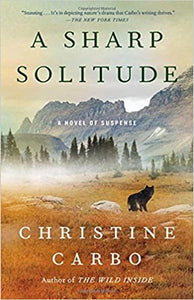 A Sharp Solitude (Used Paperback) - Christine Carbo
A gripping new mystery from the "fresh new voice in the thriller genre" (Steve Berry, New York Times bestselling author) and author of The Wild Inside, set in the magnificent and brutal terrain of Glacier National Park—for fans of C.J. Box and Nevada Barr.

In the darkening days of autumn, in a remote region near the Canadian border, a journalist has been murdered. Anne Marie Johnson was last seen with Reeve Landon, whose chocolate Labrador was part of an article she had been writing about a scientific canine research program. Now Landon is the prime suspect. Intensely private and paranoid, in a panic that he'll be wrongfully arrested, he ventures deep into in the woods. Even as he evades the detective, Landon secretly feels the whole thing is somehow deserved, a karmic punishment for a horrifying crime he committed as a young boy.

While Montana FBI investigator Ali Paige is not officially assigned to the case, Landon—an ex-boyfriend and the father of her child—needs help. Ali has only one objective for snooping around the edges of an investigation she's not authorized to pursue: to save her daughter the shame of having a father in jail and the pain of abandonment she endured as a child. As the clock ticks and the noose tightens around Landon's neck, Ali isn't sure how far she will go to find out the truth. And what if the truth is not something she wants to know?

A Sharp Solitude is a study of two flawed characters, bonded by a child, trying to make their way in an extraordinary place where escape seems possible. But no one can ever really outrun their demons, even in the vast terrain of Glacier, the ultimate backdrop for a journey of the soul.
0530SR

---