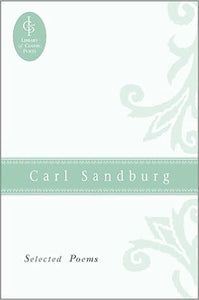 Carl Sandburg: Selected Poems (Used Hardcover) Gramercy
When Illinois-born Carl Sandburg was awarded the Pulitzer Prize for poetry in 1951, it was the crowning achievement of his nearly half century career as a poet. At the time he was one of America's most popular living poets. His work embodied the American experience and spoke deeply to the hearts of the very people who inspired his greatest poems. For them, Sandburg symbolized America's innate integrity and boundless promise.
This volume contains the poems upon which Sandburg built his reputation and career. The four poems selected from his rarely reprinted first collection, In Reckless Ecstasy, provide a fascinating glimpse into his developing talent. They show him slowly breaking free of traditional verse forms toward his own voice.
This book features a deluxe cover, ribbon marker, top stain, and decorative endpapers with nameplates.
Different Cover
0612RT
---