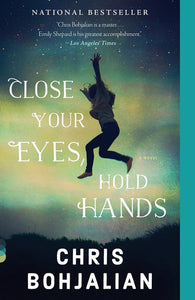 Close Your Eyes, Hold Hands (Used Book) - Chris Bohjalian
Emily Shepard is on the run; the nuclear plant where her father worked has suffered a cataclysmic meltdown, and all fingers point to him. Now, orphaned, homeless, and certain that she's a pariah, Emily's taken to hiding out on the frigid streets of Burlington, Vermont, creating a new identity inspired by her favorite poet, Emily Dickinson. 

Then she meets Cameron. Nine years old and with a string of foster families behind him, he sparks something in Emily, and she protects him with a fierceness she didn't know she possessed. But when an emergency threatens the fledgling home she's created, Emily realizes that she can't hide forever.
Paperback
1322CR
---