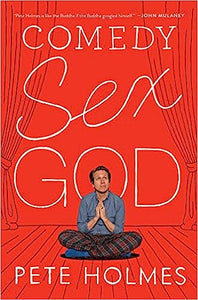 Comedy Sex God (Used Hardcover) - Pete Holmes
Pete Holmes is a sold-out-every-night stand-up comedian with two HBO specials and the host of the hugely successful podcast You Made It Weird, and he was the creator-star of the hit HBO show Crashing. But it wasn't always roses for Pete. Growing up, Pete was raised an evangelical Christian, but his religion taught him that being "bad"—smoking, drinking, having doubts or premarital sex—would get him sent to an eternity in hell. So, terrified of the God he loved, Pete devoted his life to being "good," even marrying his first girlfriend at the age of twenty-two only to discover a few years later he was being cheated on. Thanks for nothing, God.
Pete's failed attempt at a picture-perfect life forced him to reexamine his beliefs, but neither atheism, nor Christianity, nor copious bottles of Yellow Tail led him to enlightenment. Pete longed for a model of faith that served him and his newfound uncertainties about the universe, so he embarked on a soul-seeking journey that continues to this day. Through encounters with mind-altering substances, honing his craft in front of thousands of his comedy fans, and spending time with savants like Ram Dass, Pete forged a new life—both spiritually and personally.
Beautifully written and often completely hilarious—imagine Dass's Be Here Now if penned by one of the funniest people alive—Comedy Sex God reveals a man at the top of his game and a seeker in search of the deeper meanings of life, love, and comedy.
0731RT
---