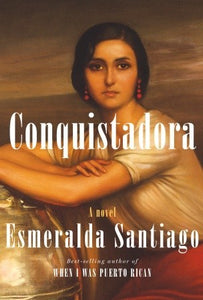 Conquistadora - Esmeralda Santiago
As a young girl growing up in Spain, Ana Larragoity Cubillas is powerfully drawn to Puerto Rico by the diaries of an ancestor who traveled there with Ponce de León. And in handsome twin brothers Ramón and Inocente—both in love with Ana—she finds a way to get there. She marries Ramón, and in 1844, just eighteen, she travels across the ocean to a remote sugar plantation the brothers have inherited on the island.

Ana faces unrelenting heat, disease and isolation, and the dangers of the untamed countryside even as she relishes the challenge of running Hacienda los Gemelos. But when the Civil War breaks out in the United States, Ana finds her livelihood, and perhaps even her life, threatened by the very people on whose backs her wealth has been built: the hacienda's slaves, whose richly drawn stories unfold alongside her own. And when at last Ana falls for a man who may be her destiny—a once-forbidden love—she will sacrifice nearly everything to keep hold of the land that has become her true home.

This is a sensual, riveting tale, set in a place where human passions and cruelties collide: thrilling history that has never before been brought so vividly and unforgettably to life. 
Hardover 
0925LFM
---