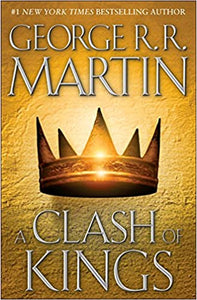 A Clash of Kings (Used Mass Market Paperback) - George R. R. Martin
A Clash of Kings transports us into a magnificent, forgotten land of revelry and revenge, wizardry and warfare. It is a tale in which maidens cavort with madmen, brother plots against brother, and the dead rise to walk in the night. Here a princess masquerades as an orphan boy; a knight of the mind prepares a poison for a treacherous sorceress; and wild men descend from the Mountains of the Moon to ravage the countryside.

Against a backdrop of incest and fratricide, alchemy and murder, the price of glory may be measured in blood. And the spoils of victory may just go to the men and women possessed of the coldest steel . . . and the coldest hearts. For when rulers clash, all of the land feels the tremors.
---