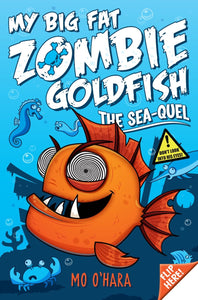 My Big Fat Zombie Goldfish: The Seaquel (Used Hardcover) - Mo O'Hara
After Tom rescued Frankie the goldfish from his big brother Mark's toxic science experiment by zapping him back to life with a battery, Frankie somehow became a BIG FAT ZOMBIE GOLDFISH with dangerous hypnotic powers. Fortunately, Tom has won Frankie's trust, and together with Tom's best friend Pradeep, they team up to thwart Mark's Evil Scientist plans.

Tom is looking forward to their annual family trip to the seaside, right up until he hears about the Evil Eel of Eel Bay―a monster that Mark is entirely too interested in. After all, even a BIG FAT ZOMBIE GOLDFISH might have a little trouble with a Super Electric Zombie Eel!

Then, Frankie takes center stage to rescue Tom's school play from Mark's evil plans.
Cover image may vary.
My Big Fat Zombie Goldfish #2

0615DS

---