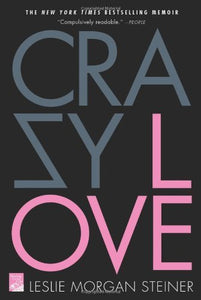 Crazy Love (Used Book) - Leslie Morgan Steiner
At 22, Leslie Morgan Steiner seemed to have it all: a Harvard diploma, a glamorous job at Seventeen magazine, a downtown New York City apartment. Plus a handsome, funny, street-smart boyfriend who adored her. But behind her façade of success, this golden girl hid a dark secret. She'd made a mistake shared by millions: she fell in love with the wrong person.

At first Leslie and Conor seemed as perfect together as their fairy-tale wedding. Then came the fights she tried to ignore: he pushed her down the stairs of the house they bought together, poured coffee grinds over her hair as she dressed for a critical job interview, choked her during an argument, and threatened her with a gun. Several times, he came close to making good on his threat to kill her. With each attack, Leslie lost another piece of herself.

Gripping and utterly compelling, Crazy Love takes you inside the violent, devastating world of abusive love. Conor said he'd been abused since he was a young boy, and love and rage danced intimately together in his psyche. Why didn't Leslie leave? She stayed because she loved him. Find out for yourself if she had fallen truly in love – or into a psychological trap. Crazy Love will draw you in -- and never let go.
Hardcover
---