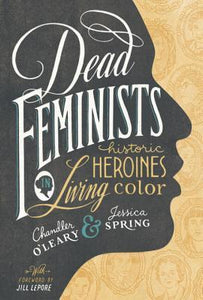 Dead Feminists: Historic Heroine In Living Color (Used Hardcover) - Chandler O'Leary & Jessica Spring
This gorgeously illustrated letterpress-inspired book combines feminist history with a vision for a better future. Based on the beloved Dead Feminists letterpress poster series, this illuminating look at 27 women who ve changed the world features a foreword by Jill Lepore, author of The Secret History of Wonder Woman. Intricate and beautiful broadside art takes center stage in this richly visual book that ties inspiring women and the challenges they faced to today s most important issues. The book revisits the original posters plus adds new art, archival photographs, and ephemera to tell the stories of feminists such as Eleanor Roosevelt, Gwendolyn Brooks, Rachel Carson, and more. Dead Feminists takes feminist inspiration to a new level of artistry and shows how ordinary and extraordinary women have made a difference throughout history (and how you can too).
Featured Feminists
Adina De Zavala
Alice Paul
Annie Oakley
Babe Zaharias
Eleanor Roosevelt
Elizabeth Cady Stanton
Elizabeth Zimmerman
Emma Goldman
Fatima al-Fihri
Gwendolyn Brooks
Harriet Tubman
Imogen Cunningham
Jane Mecom
Marie Curie
Queen Lili uokalani
Rachel Carson
Rywka Lipszyc
Sadako Sasaki
Sappho
Sarojini Naidu
Shirley Chisholm
Thea Foss
Virginia Woolf
Washington State Suffragists"
Hardcover 
0715NVB

---