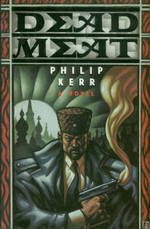 Dead Meat (Used Hardcover) - Philip Kerr
EVERYONE IS GUILTY OF SOMETHING...
In comtemporary Russia the old ghosts have been laid to rest, but the stench of corruption is just as strong as ever. Now a top-level Moscow investigator, dispatched to St. Petersburg, is about to discover just how deep the decadence runs--in both the corridors of power and the labyrinth of the human heart. The man from Moscow has been teamed up with Grushko, a palm-reading local detective with Elvis Presley hair. Together they embark on a investigation into the brutal murder of a famous and controversial journalist. To Grushko, an expert in the ruthlessness of the rising Russian Mafia, the killing has all the earmarks of a professional hit. But in the new Russia appearances have almost as little value as the new ruble.
Soon the focus of the investigation will fall on the journalist's widow, a pinup beauty whom one detective will find impossible to trust...the other to resist.
Inscription inside front cover
---